We want to help you find the best foundation for dry skin. We have included all the information that you need to know and recommend the foundations that will not only help you moisturize your skin but will also allow you to save time and money! If you are serious about improving your skin condition, let us take you by the hand and explore the different options that you have.
Here is a list of some of the best moisturizing foundation for dry skin that we have looked at:
List of The Best Moisturizing Foundations For Dry Skin
The Kevyn Aucoin foundation is one of the best hydrating foundations for dry skin on the market today. It has a silky texture and has great hydrating ingredients such as jojoba oil and honey. This skin enhancer foundation is a multi-function product and can also be used as a concealer & highlighter.
This foundation not only locks moisture in your skin but also creates the appearance of healthy and smooth skin. It doesn't crease, settle or fade (especially in the eye area where any settling or fading can be embarrassing).
Looking for a tinted sunscreen that matches your skin tone? Blend a slight amount of this product with sunscreen and you are good to go! Additionally, this little pot of makeup is a great value. Users have reported that it could be used everyday for a year before it runs out. Try the SX 11 for medium skin tones and SX 10 for medium beige skin tones.
The Youngblood Liquid Mineral Foundation is the best liquid mineral foundation for dry patchy skin. My clients absolutely love it and highly recommend it.
Youngblood did a great job with this liquid mineral foundation designed specifically to help boost your skin's hydration. The product is made with green tea extract which is a great antioxidant and anti-inflammatory agent.
I like this product because it provides even coverage and looks 100% natural. This foundation controls your skin moisture and worked well on your dry acne prone skin. It won't make your skin breakout.
The product doesn't settle into pores and is made mostly from finely milled minerals. This foundation works well for busy women who will be at work all day. Put it on during the morning and you will be fine for at least 12 hours.
Other brands of mineral makeup may have sparkles mixed with coarse and uncomfortable particles. However, Youngblood skips all that glitter and makes up for it by creating a formula that is truly superior. It is lightweight and washes off easily.  This foundation works best with damp sponge.
The Vincent Longo Water Canvas creme-to-powder foundation is a great moisturizing foundation for dry skin. It's provides a lightweight coverage without clogging your pores. It is oil-free and hydrating.
The texture of this foundation feels cool upon contact. The formula also contains important ingredients for your skin such as micro water and seaweed extracts. Vitamin E has been added to protect your skin from free radicals which are the main causes of lines and wrinkles.
The works on all skin types. It melts into your skin when you first apply it and it can last all day. It also doesn't settle into lines and has no perfume odors. The product works on sensitive or acne prone skin. It doesn't cause your acne to break out. It is a great water based foundation and works well on very dry skin.
This BB Cream from Smashbox is multi-functional which means you can use it for light coverage or as a primer.
The manufacturer guarantees that you will see an improvement to your skin's moisture with just 4 weeks of use. This formula has an SPF of 35, which means you will have good protection against UVA and UVB rays.
The product is designed to help you decrease anti-aging peptides and fine lines. The product is also non-greasy and helps your skin look healthy and beautiful. It is a sunscreen, moisturizer and foundation all in one package.
Others who have used this BB Cream have reported that it works well with clay based powders. The light formula allows your skin to breathe and can last 8 hours. It is great for quick cover ups if you are in a rush (especially in the morning).
One of the best natural foundations for dry skin is the Bella Mari Natural Moisturizing Foundation. This foundation is made from 100% pure and natural ingredients. It's one of the best moisturizing full coverage foundations for dry skin. It has sun protection SPF 30.
This foundation does not contain any parabens or synthetic preservatives. It's free from gluten, dairy, peanuts, vinyl, dyes, synthetic fragrances, skin irritants, and manmade chemicals.
In summary here is what you get with a bottle of this foundation:
All-natural ingredients –  This foundation is 100% natural with no man-made chemicals or synthetic preservatives. This makes it one of the best foundations for dry sensitive skin.
Moisturizing ingredients – To protect and nourish your dry skin. These include organic olive oil, purified water, lemongrass oil, and plant-based candelilla wax.
Full coverage – This hydrating full coverage foundation helps to cover extremely dry flaky skin and returns moisture to the surface.
Sun protection
Cruelty-free and Vegan
25 Shades – Tons of shades to fit almost every skin tone.
You're getting some really good value from this 1.07oz jar of foundation and it's definitely worth a try.
The Honest Beauty Everything Cream Foundation
one of the best matte foundations for dry skin. This foundation is lightweight and will moisturize your dry skin with ingredients like jojoba oil and sunflower seed oil. The creamy texture is super easy to blend and provides a matte finish that helps to control shine on your skin all day. It is a medium coverage foundation that is buildable to full coverage.
It contains natural mineral pigments and is formulated without the use of talc, phthalates, petrolatum, paraffins, silicones, mineral oil or synthetic fragrances. It's cruelty-free and hypoallergenic.
This is a great cream foundation for dry skin and is definitely worth a try.
The M.Asam Magic Finish Makeup Mousse is the best mousse foundation for dry skin. This is essentially a 4-in-1 product combining the features and benefits of a primer, concealer, foundation and powder. It's good for dry skin because it contains grape seed oil in which the linoleic acid in the seed oil helps to protect against skin moisture evaporation.
It provides a light coverage that is buildable to full. It's very lightweight, non-comedogenic and provides a matte finish. It can adapt itself to your skin tone, providing you a natural look with a perfect match each time. It's works great for covering wrinkles, fine lines, and large pores.
The PUR 4-in-1 Pressed Mineral Makeup is one of the best powder foundations for dry skin. This mineral powder foundation contains skin nourish ingredients such as Waltheria Extract (for brightening), Ceramides (for hydration and retention of moisture), Vitamin B3 (anti-inflammatory) and retinol (for plumping out skin). These skin nourishing ingredients also makes it one of the best powders to set foundation for dry skin.
This compact foundation for dry skin feels lightweight and comes with sun protection SPF 15. It's called "4-in-1" because it combines the functions of a foundation, concealer, sunscreen and mineral finishing powder all in one application.
The formula is does not contain parabens. It is vegan, cruelty-free, gluten-free and BPA-free. It has also been ocular tested to ensure that it won't irritate the eyes or interfere with contacts. There are 26 shades to choose from.
Best Drugstore Foundations For Dry Skin
The Maybelline dream mousee is one of the best cream foundations with moisturizer for dry skin. This is because the product is created with a moisturizing cream designed to keep your skin smooth and hydrated. In fact, the manufacturer states that this product will keep your skin moisturized for at least 14 hours.
The lightweight formula is packed with moisturizing ingredients such as Glycerin and helps to keep your skin hydrated throughout the day. The is a fragrance-free foundation for dry skin. It won't clog your pores (non-comedogenic) and has been tested on sensitive skin.
If you are acne-prone like me, you will know how important it is to choose a foundation that covers the redness of the acne and not make your acne breakout. This product is good for use in such a situation.
If you have combination skin where your T-Zone area is always oozing with oil, you will definitely benefit from the non-comedogenic feature of this product. When oil starts to build up in your T-Zone area, simply blot your oil spots with a tissue and you will be good to go. The applicator that comes with the product is designed to help you apply the foundation quickly and smoothly. The product design packaging is superb and fits easily in your purse or makeup bag. Additionally, this foundation will last you a very long time.
I usually use 2-3 coats each time I apply the product and I have been able to get at least 4 months of usage before I need to replace it again.
This is a great lightweight foundation for dry skin and it's designed so that you would feel like you are not wearing anything at all. With great coverage and a low price point, this Maybelline foundation is a true gem for anyone dealing with dry skin!
The Neutrogena Nourishing Long Wear Liquid Makeup Foundation is one of the best long wear foundations for dry skin. It can last up to 12 hours. It contains a blend of antioxidants, soy and Vitamins A, C, E to help protect your skin from free radicals.
It has sun protection SPF 20 that helps to protect your dry skin from the sun's UV rays. Aside from its short term benefits, Neutrogena claims that this foundation is clinically proven to improve your skin's natural tone and texture in four weeks.
This is a medium to full coverage foundation for dry skin. It has a smooth texture and does a great job covering fine lines.
It's formulated without the use of parabens and there are 8 shades to choose from.
Btw, I have written detailed guide on the best long lasting foundations if you're interested to find out more.
The Neutrogena Hydro Boost Hydrating Tint is the best oil free foundation for dry skin. It's formulated with hyaluronic acid, a superior skin hydrating ingredient that helps you create a natural and moisturized look.
This foundation is lightweight, provides a medium buildable coverage and is one of the best dewy foundations for dry skin.
It's oil-free, non-comedogenic, won't settle into fine lines and works well even on dry mature skin.
Neutrogena claims that the foundation can plump and moisturize your skin for 24 hours. It's available in 10 shades.
The e.l.f Acne Fighting Foundation is one of the best foundations for dry skin with acne. It contains Aloe Barbadenis Leaf Juice which absorbs into your skin quickly and helps to seal in moisture. It also contains salicylic acid, an acne bacteria fighting ingredient that helps to reduce existing acne and prevents new breakouts.
This is a full coverage, lightweight foundation with a natural finish. Other notable acne reducing ingredients include:
Witch-Hazel – Helps shrink pores and reduce inflammation.
Camphor – Helps to relieve skin irritation.
Tea Tree – Helps to calm redness, swelling and inflammation.
This foundation is vegan and cruelty-free.
Want to Make it Yourself? Try These DIY Recipes!
If you want to go all-natural and control the ingredients that you put on your face, try these hand-picked DIY foundations for dry skin recipes.
DIY Natural Ginger Cream Foundation For Dry Skin
All natural cream foundation made with ginger, nutmeg and a hint of cloves.
Check out this recipe
DIY Argan Oil Natural Liquid Foundation For Dry Skin
A rich, creamy and skin-nourishing liquid foundation made with argan oil and aloe gel as main ingredients.
Check out this recipe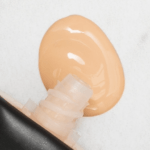 You will need to experiment a little with these recipes to get the perfect shade. However, if done right, these DIY foundations could save you tons of money while keeping your skin protected and nourished. Always test the created product on a small area of your skin first to ensure that the ingredients are compatible with your skin.
Foundation For Dry Skin: What You Need To Know (Tips)
What Foundation Ingredients Are Good For Dry Skin?
So what exactly are you putting on your face? Have you ever looked twice at the label and think about what is it that you brought? There are some popular ingredients that manufacturers like to put in their products. It is best that you learn a little bit more about each ingredient and what's actually inside your makeup. Here are a few of the common ones:
Ceramides – Ceramides are important building blocks of your skin's structure. They assist in maintaining your skin's moisture and helps to hold your skin together. Complications with dry skin often link to low ceramide levels. Dry skin is more susceptible to dirt and pollution, which is why it is important to keep your skin hydrated as much as possible.
Glycerin – Glycerin is also known as glycerol and is composed of fats and sugars. It is found in all animal and vegetable fats. Glycerin readily absorbs and retains water which is important for keeping your skin smooth and hydrated.When applied to your skin, it attracts water from your surrounding environment and adds that moisture to the surface layers of your skin (also called the epidermis). By maintaining the outer barrier of your skin, it glycerin helps to prevent flaking of the skin. Consistent usage of products that contain glycerin can help your skin stay smooth and healthy in the long run.
Dimethicone -Dimethicone is an ingredient that is found in many skincare and makeup products. Manufacturers love this ingredient because it helps to fill uneven textures. You would not be surprised to find Dimethicone is many primers, moisturizer, and foundation products. In fact, this is one of the main ingredients in oil-free moisturizers. When applied to the skin, it forms a protective barrier on the surface of the skin which helps to lock the moisture inside.
Petrolatum – You would probably be familiar with this product if you have used Vaseline in the past. It is the same as petroleum jelly and it is a very popular material used in moisturizers. The reason is simple, petrolatum is very effective in preventing water loss on the skin's surface. It is also great for protecting rough skin. People with oily skin should stay away from petrolatum, however, because it may make your skin even oilier.
Hyaluronic Acid – Hyaluronic acid has the ability to soften skin. It is becoming a popular ingredient in the makeup world. You can find hyaluronic acid naturally in the human body. It is used by your body to lubricate joints or to maintain the shape of your eyeballs. As we grow older, however, this substance depletes.Many makeup manufacturers have learned that including hyaluronic acid into their products can help their aged customers return skin to their natural beauty. Hyaluronic acid works by drawing water from deep inside your skin. It can hold up to 1000 times its weight in water. These great properties help your skin feel smoother and plumper. Look for this ingredient when selecting the right type of makeup in the future!
BTW, if you want to try foundations containing hyaluronic acid, I wrote an extensive guide on the best foundations with hyaluronic acid. Check it out if you have a chance.
What Kind Of Foundation Is Best For Dry Skin?
The kinds of foundation that are best for dry skin are cream, liquid and powder to cream.
Which kind you choose depends on how dry your skin is, your personal application preferences and the hydrating level that you are looking for.
Let's take a closer look at each kind of foundation:
Cream – Many people asks me if cream foundations are good for dry skin. My answer to all of them is: Yes! Cream foundations works great with dry skin because they are usually oil based. It adds an extra layer to your skin and helps to seal in the moisture. Like all other types of foundations, they do the job by minimizing your pores and make your lines less apparent. If you are looking for something that will last, cream foundations are your best bet. These provide a better level of coverage than liquid foundations and usually last for 8 hours or more.
If you want to know more about oil based foundations, I've written an extensive guide on some of the best oil based foundations. Check it out if you have time!
Liquid – Liquid foundations are great for providing moisture to dry skin. Choose this type of foundation if you have medium-dry skin and would rather not deal with the heaviness of a cream foundation. Some liquid foundations come with sun protection and can be either oil-based or oil-free.
Powder to Cream – Powder to Cream foundations are a powder foundation that applies like a cream when you wet it with water. It then dries to a powder finish after it is applied. It's great for those of you who would like better control of the amount of moisture to add to your face.
Powder – Powder foundation is normally considered not a good option for  dry skin because they soak up that extra oil on your face, making it even more dry. However, it is preferred by many people because of the lightweight coverage that it provides. Some companies create them with a moisturizing functionality by including ingredients such as jojoba oil. They are usually mineral based.
How to Apply Foundation to Dry Flaky Skin?
Applying foundation correctly on dry skin allows it to stay on longer while keeping your face hydrated throughout the day.
Here's How To Apply Foundation To Dry Flaky Skin:
Apply a silicone based face primer with dimethicone. The dimethicone in the primers helps to moisturize your skin and fills in uneven skin surfaces. It creates a smooth surface that protects your skin while making it easier for your foundation to stick. Simply squeeze a bit of product on your fingers, rub it all over your face and then spread it out evenly with a damp beauty blender.
Apply a hydrating foundation by spreading some product on your face and blending it in with a damp beauty blender or foundation brush.
Why You May Have Dry Skin
There are a number of factors that explain why your skin may feel dry, itchy and uncomfortable. Have you ever wondered why your skin is so dry? Maybe it has something to do with your surrounding environment or habits. Here are a few reasons why your skin is so dry:
Cold Weather – As air cools, it loses its ability to hold moisture. Dry air strips moisture from your skin, leaving it dry and itchy.
Hot Showers – If you enjoy taking long hot water showers, then this is bad news for you. Hot water carries away the natural oils from your skin. A simple habit change of spending less time in the shower can help your skin out tremendously.
Wrong Soaps – Many people do not think twice before buying soap. As a matter of fact, you should check the package carefully next time before you make the purchase. Harsh soaps can dry up your skin faster than you can imagine.
Reduce the Scrub – Ever considered that scrubbing too harshly on your skin can actually damage it? It is important to scrub the dirt out when you bath but if you scrub too hard, you will strip the oil right out of the surface of your skin too!
Getting Older – This is a part of life that cannot be controlled. But that doesn't mean you have to live with dry skin as you grow older. It does mean that you will have to be extra tentative to your skin's needs and apply rich moisturizers often.
Fabrics – Do you have a habit of rubbing your face on the pillow when you sleep? Certain fabrics can irritate your skin and suck up the moisture too! Consider using softer fabrics or materials that will not irritate. Cotton percale sheets seem to work well.
Skin Conditions – Get to know your skin a little better. Some dryness and redness in your skin can be due to certain skin conditions and diseases. If you are unsure, it is recommended that you see a doctor and clarify.
If Left Untreated, What Are The Consequences Of Having Dry Skin?
There are definite rewards for taking good care of your skin. However, if left untreated, the consequences are serious and painful. There are many complications that are associated with dry skin. Dry skin can easily crack and allow bacteria to enter and cause infections. It is also very uncomfortable and itchy.
If you scratch your skin too often, it will grow thicker in the scratched area which is something that you don't want, especially on your face! If it gets too serious, you may end up with skin conditions such as lichen simplex chronicus (LSC) and prurigo nodule. For busy women, taking care of your skin should be the first priority. Ideally, you should incorporate the moisturizing in your makeup routine.
Common Questions from Readers
QUESTION: I want to use a matte foundation or makeup on my dry skin, but I am afraid that it will make my skin even more dry. Is matte makeup good for dry skin? – Jenna from London, England
Hey Jenna, I see where you are coming from. Matte foundations and makeup tend to "suck" out the oil on the skin, making it less shiny and therefore allowing you to achieve that beautiful matte look. However, this presents a problem for those of us with dry skin as we need the oil to provide lubrication and to keep it less dry.
If you've got dry skin and want to use a matte foundation or makeup, here are my suggestions:
How to Apply Matte Foundation On Dry Skin
Use a Hydrating Primer – This type might work best for those with combination skin. First, study your face and find locations that have dry skin you want to cover. Use the hydrating primer on those areas first and then apply a thin layer of matte foundation on top. The hydrating primer will provide moisturization for your skin and provide protection from the "sucking" power of the matte foundation.
Use a Matte Finishing Spray – The purpose of matte finishing sprays is to reduce shine on the skin surface and they usually work best for setting powder foundation. However, you can spray it lightly on top of liquid foundations to reduce the shine and give you that matte look. A good Matte spray is the MAC Prep + Prime Fix + Matte.
Put Your Focus on a Better Skin Care Routine – Consider why you have dry skin in the first place. Are you using any night creams or face masks? Are you doing your due diligence in taking care of your skin and body? Are you staying hydrated throughout the day?
Remember, foundations and other makeup products are used primary to cover skin impurities or highlight facial features. They should not be considered as substitutes for your skin care products.
QUESTION: I have extremely dry skin so I have been using BB creams as an alternative to foundation. Due to limited selection, I want to look into using foundations. My questions are: Does foundation dry out your skin? What makeup should I use for dry skin? – Kenji from Tokyo, Japan
Hey Kenji, thanks for your email and happy to see that you're considering new products. As for foundation, my suggestion is to stay away from matte foundations as they will only make your skin more dry. Foundations comes in many forms and formulas and in your case, you may want to look into liquid or cream types. Look for ingredients such as Ceramides and Glycerin in your makeup products.
I've recommend a matte foundation for dry skin in this post up above. You may want to try that as well.
As I have mentioned to Jenna above, look into why you have dry skin in the first place. having healthy skin will make your makeup routine a lot easier!
Do you have beauty or skincare related questions? Contact me and ask! I will do my best answer them.
Was This Post Helpful? Let us know if you found this post helpful. That's the only way we can improve.