Black eyes are difficult to conceal even for an experienced makeup professional. If you've done some research online, most people suggest using a green concealer to neutralize the red and purple tones of a black eye before applying your regular concealer on top.
However, if you don't have a green concealer, there are ways to cover your black eye effectively.
In this post, I connected with Mindy Green, a talented makeup artist, and hairstylist who was featured on TV in Houston, DC, and Baltimore,  to share her best tips on how to cover a black eye without using a green concealer.
A green concealer is effective for covering red and purple tones but Mindy comments that "black" eyes can be made up of different colors like purple, blue, green, yellow or red and continue to change as they heal.
You need to study the tones that make up your black eye and your goal is to neutralize the unwanted tones and then brighten around the eye. To neutralize, you would use green to neutralize red. For violet tones, you need yellow. For blue, you need an orange corrector and for yellow, you need a soft violet.
Notes from Sandy: Most people confuse "red" with "violet". If you don't have a green concealer, you can try using a yellow corrector. Depending on how much red tones you have on your black eye, you may be able to neutralize it just enough so that your concealer can finish the job (more about this below). 
What you will need:
Mindy shared with me that in order to cover the black eye, you need 2 products: a concealer, and a corrector. The corrector you would use depends on the colors of the "black" eye (as described above).
The correctors will help to neutralize the unwanted color or tone and the concealer is used to brighten or provide more opaque coverage to an area.
What you need to do: 
Step 1: Start by applying a corrector with a concealer brush. Start on the inner corner and work out towards the cheekbones. You want to pat gently as the eye area is sensitive to touch. Get as close to the lash line as possible when applying. Apply the corrector to all areas affected by the discoloration.
Step 2: Once you've applied the corrector, use the same technique with the concealer. With a clean concealer brush, apply the concealer over the corrector and lightly blend. These 2 products must be applied in separate layers so you can get the benefit. Mixing them together and applying won't get you the desired look.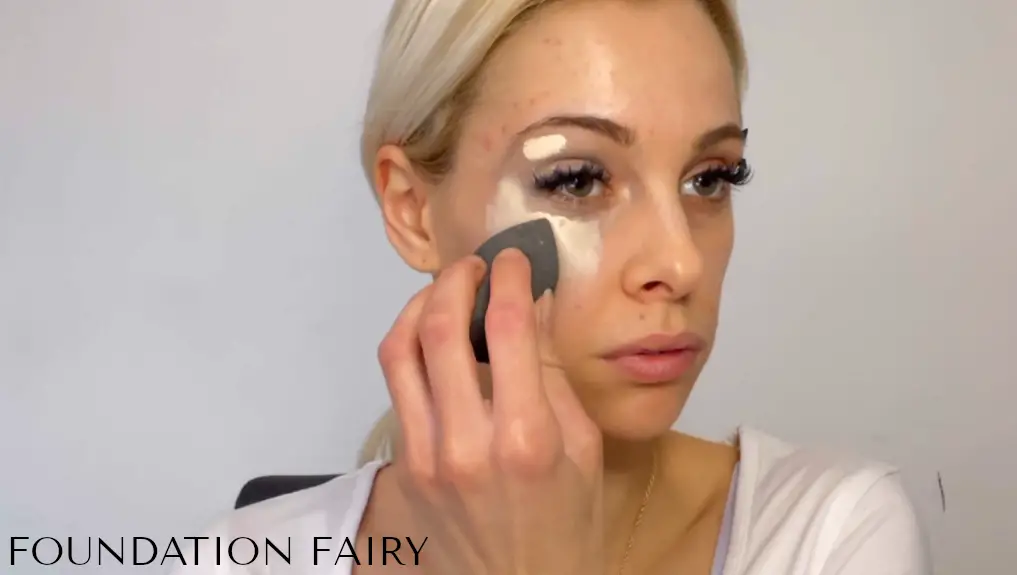 Step 3: Finish with a setting powder.
And here is the final result:
Want more details? Watch this step-by-step process in the video tutorial below:
Was This Post Helpful? Let us know if you found this post helpful. That's the only way we can improve.