Getting rid of sunken eyes is easy with the right makeup techniques. Even if you're a total beginner or have little time to do makeup, the makeup techniques that you will learn in this post will help you refresh your eyes quickly.
The best way to make eyes look less sunken with makeup is to apply a Vitamin-C based eye cream and color correcting cream then top it off with a concealer and set the look with a matte setting powder. 
In order to help you obtain the best results, I also connected with beauty experts and asked them to share their best tips with me.
Here's How to Make Eyes Look Less Sunken With Makeup
Jen Lou Meredith, a seasoned beauty and fashion expert, suggests these steps to make your eyes look less sunken with makeup:
What You will Need:
Vitamin C- Based Eye Cream or Tonic – Try the Olay Vitamin C Peptide 24 Brightening Eye Cream. This eye cream is fragrance free and contains Vitamin B3 and Peptides that brightens, hydrates and improve the appearance of the under eye area. It doesn't contain common harmful ingredients like parabens, phthalates, synthetic dyes or mineral oil.
Color Correcting Cream – You'll want to use a yellow, pink, apricot or orange correcting cream . Use yellow for the lightest skin tones and orange for darker skin tones.
Your regular concealer
Concealer Brush
Small Buffing Brush
Matte Setting Powder
Step-By-Step Instructions:
Step 1: Apply a rice-sized blob of a vitamin C-based eye cream to each eye. Not only will this help to brighten dark circles over time, it will also provide a good base for your makeup. If you don't have a vitamin C-based eye cream, you can also use a vitamin-C tonic.
Step 2: Next, dab on a color correcting cream using a concealer brush, a small buffing brush or your ring finger. Don't overload your under-eye skin with correcting cream, as a small amount will make a difference. If you don't have very dark circles, you don't need to use a color correcting cream. Instead, apply an eye cream to ensure that your undereye area is nourished and hydrated.
Step 3: Wait two minutes for the correcting cream to dry slightly, then apply your favorite concealer over the top. If you didn't use color correcting cream in step 2, you may apply the concealer directly under your eyes.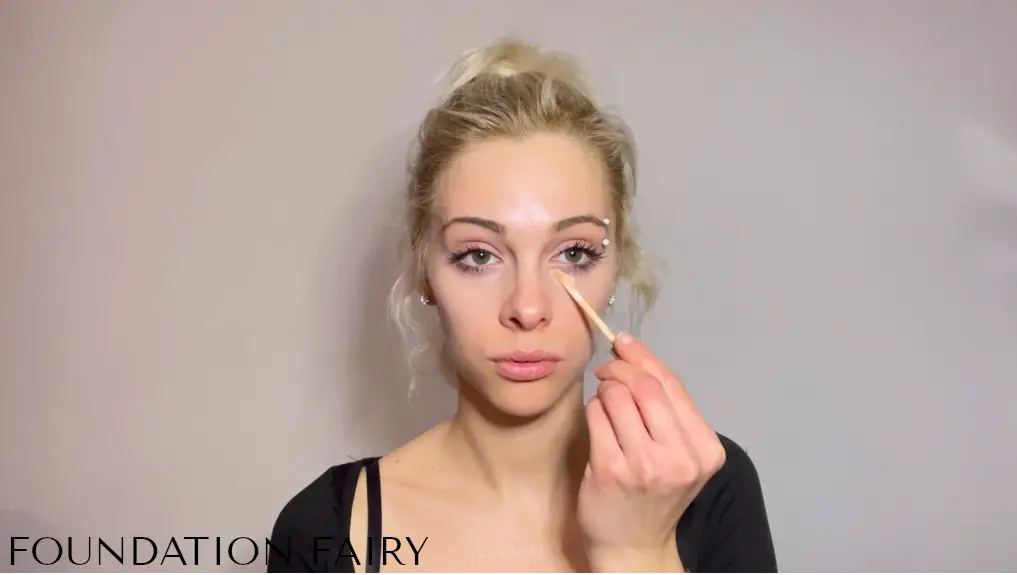 Step 4: If your eyes are very sunken, a matte setting powder will help to avoid light reflecting off the concealer and making them appear even more sunken. Apply a light layer of your powder to your under-eye area using a fluffy brush to finish off your look.

Check out the video below which will show you step-by-step this makeup routine:
Additional Tips For Using Makeup on Sunken Eyes
Heaven Luna is a Licensed Esthetician & Certified Makeup Artist at Luna Beauty and Wellness. She shares the following tips for making your eyes less sunken with makeup:
Use Eye Creams Containing Retinol, Vitamin C or E.
Start with a good eye cream. An eye cream is important in keeping the skin healthy, hydrated and plump looking. As well as helping to correct and prevent discoloration making the makeup application much easier.
According to research, products containing phytonadione, retinol  vitamins C and E  helped decreased not only dark circles but also wrinkles after 8 weeks of treatment.  Look for these ingredients the next time you go shopping for a new eye cream.
Choose the Right Under-eye Concealer Shade
The right under-eye concealer shade is usually no more than one or two shades lighter than your natural skin tone.
Be mindful of the under-eye concealer shade you choose. Often times people choose a shade much too light to correct dark circles or sunken eyes. If you want to use a lighter concealer, make sure it is well blended into your foundation and not caked under the eyes. Finding a concealer marked as "brightening" can also be helpful, as these often contain a slight peachy tone to help color correct dark circles.
Don't use Dark Eyeliner
Do not use dark eyeliner all around your eyes. Lining your entire eye in a dark color makes your eyes smaller which results in an even more sunken look. Instead, it is best to only line the top lid or forego liner all together. A nice alternative to a black eyeliner is to use a small brush and a dark brown eyeshadow and gentle smudge along the top lash line. This gives your eyes a beautiful, soft definition without making them appear sunken.
Try Using Concealer in the Inner Corner of the Eye (Quick Makeup)
Katherine Dorn, Professional Makeup Artist at New York based Pierre Michel Salon suggests that if you are doing quick make up and don't want to wear eyeshadow, try to use concealer on the inner corner of the eye which is often darker compared with the rest of eye.
Here's how to do it:
Step 1: With your finger or brush you can apply concealer to your inner corners of the eyes and underneath the eye and lightly tap with your fingers to blend.
Step 2: Apply any kind of powder. It could be pressed powder or translucent powder.  This will set the concealer so it does not crease.
If you have very sunken in eyes you can brighten the eye area by adding a lighter and brighter color shadow on top of the concealer to brighten the eye area. Just remember less is more.
Try Applying Glitter To Your Inner Eye
The inner eye is usually the first place people notice. Brightening this area with a bit of glitter can make your eyes look more awake and less sunken.
What You Will Need:
Eye shadow primer
Three eye shadow shades of the same color. Eg, cream with brown hint, light brown and glittery dark grown.
Medium brush
If this is your first time using glitter makeup, use a eye shadow palette so you can experiment with different shades. It's also a good idea to have eye makeup remover and tissue so you can start over in case you mess up.
Step To Follow:
Step 1: Using your fingers, apply a small amount of eye shadow primer to your eyelids. The eye shadow primer helps to create a smooth surface for your glitter eye shadow.
Step 2: Use a medium brush to cover your lid with the base shadow.
Step 3: Apply a darker shade of shadow on the outer corner of your eyes to create a contour.
Apply the light-reflecting glitter shadow to the inner corner of your eyelids.
Don't Forget the Mascara
Using mascara is my go to method for giving your eyes an instant lift. Here are some useful guides that I have written on using mascara that works great on sunken eyes:
Each guide offers a unique approach on using mascara on your eyelashes. Check it out when you get a chance!
Was This Post Helpful? Let us know if you found this post helpful. That's the only way we can improve.