When you want to look your best, flat and limp hair can leave you searching for ideas. How can you get that coveted, head-turning bounce? If you struggle to get your hair to maintain body and volume, there are a few things you can do to help. Read on to discover possible reasons that your hair might seem flat and find the ideal hair care routine for adding volume and luster!
7 Tips For Getting Silky Bouncy Hair at Home
Shampoo Daily (and Rinse Well)
Keeping your hair clean—really clean—can remove the buildup of dirt, oil, and grime that weighs down your hair and reduces volume. Get those tresses up and moving by shampooing daily with a gentle cleansing formula that invigorates your hair and scalp. 
Use Volumizing Hair Products
Revitalizing your hair can sometimes be as simple as using products that are right for your hair type. Salon-quality volumizing hair products are typically made with high-nutrient botanical extracts and proven ingredients that coat each strand and help your hair maintain its shape. Vitamins A, C, and E are especially helpful for keeping your hair healthy and shiny and are found in abundance in the extracts of brightly-colored fruits and vegetables.
For your daily hair care routine, start with a deep-cleansing shampoo and rinse it out thoroughly to prevent product residue that could weigh down your locks. When you follow your shampoo with a volumizing conditioner, be sure to apply it only to the mid-lengths and ends of your hair to avoid coating and weighing down the roots. 
Style Up, Not Down
Once your hair is clean and conditioned, apply a volumizing leave-in conditioner, starting at the mid-lengths and working your way out. For added body, you can also apply a volumizing foam styling mousse or hair volumizing booster—working the product into your locks against the direction of hair growth for maximum body and fullness. Not a hair wash day? Pinup the top layers and brush up from the ends for fluffy, textured hair.
Blow-Dry Your Hair Upside Down
While blow-drying down is great for smoothing frizz and curls, those with fine, limp hair will need to take the opposite approach. Taking your hairdryer, blow up from underneath or tip your head upside down. Dry your hair, flip your head back, and voila! Your roughened hair should display a lovely amount of texture and fullness.
Move Your Part
No matter where your part naturally sits on your head, your hair will sit the flattest when you leave the part where it is. For instant volume, brush your hair normally and then move your part to the side—your locks should turn into a shapely cascade.
Apply a Styling Spritz
After drying your hair and before applying makeup, style with your favorite hair accessories and apply a fine layer of hair spray. If you've followed the "styling up" advice mentioned previously, this little spritz will prevent your style from flattening during the day.
Consider Cutting Your Locks
It might not be for everyone, but shortening the length of your hair could make a big difference. Long hair naturally weighs itself down—which is great for controlling frizz but no so great for hair that is already flat. Consider a bob cut, shoulder-length hair, or adding some bangs for texture. Shorter hair is easier to style than long hair, and you'll need less product to create the head-turning volume and shape that you desires
Why Your Hair May Be Thin Or Weak
Some people have naturally fine hair—meaning that each strand has a smaller than usual diameter and there are actually more of them. The greater amount of oil produced with so many roots can weigh hair down and reduce volume and bounce. 
If your hair is usually full of body and has suddenly started to thin or break, consider other factors that might be contributing to the change:
Vitamin and mineral deficiencies

Chemical treatments

that might have damaged your hair

Pregnancy and postpartum

An underactive thyroid (

hypothyroidism

)
To ensure an adequate intake of micronutrients in your diet, ad fresh fruits, vegetables, grass-fed animal products, nuts and seeds, and protein smoothies to each day to strengthen your locks from the inside out. A qualified health practitioner will be able to assist with diagnosing and treating any other conditions that might be weakening your hair. 
Is your diet already perfect but your hair is still flat? Adjusting your daily hair care routine can make a big difference.
There you have it—a comprehensive guide to restoring volume to lifeless hair. For quick results, moving your part or shortening the length of your hair will instantly add body. Improved nutrition and targeted hair treatments take longer to give results but will make your tresses healthier and shinier in the long term. Happy styling!
About the Author: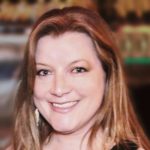 Tess DiNapoli is an artist, freelance writer, and content strategist. She has a passion for yoga and often writes about health and wellness. She also enjoys covering the fashion industry and the world of fitness.
Was This Post Helpful? Let us know if you found this post helpful. That's the only way we can improve.