When selecting the right oil based foundation, you want an option that is going to work well with your skin. Because you want your foundation to look as natural as possible, this means paying close attention to what your skin needs and what benefits your foundation can provide.
Most foundations on the market are either oil based (what this post is about), silicone based or water based. While each can provide a beautiful finish when applied correctly, if you're using the wrong foundation for your skin type, you may end up looking like a hot mess.
But how do you know which kind of foundation you need?
Today, we're going to take a look at oil based foundations to help you determine if this particular makeup base is right for you and your skin.
What is Oil Based Makeup Foundation?
When oil acts as the base of a foundation, it means that the makeup will usually be a bit thicker or greasier than a standard water based foundation. However, this does not mean that an oil based foundation will look greasy when applied to the skin. With the proper application and attention, an oil based foundation can actually go on very lightly on the skin.
An oil based foundation is not right for everyone. Because oil penetrates on skin more slowly than water, it has the ability to really sit on the top of our skin and cause us to feel slick and shiny if we don't need that extra bit of moisture. But for women with dry skin, an oil based foundation can be the difference between a dull, flat finish and a healthy, dewy glow.
If you find your skin is dying for some extra moisture during the day, using an oil based foundation may be just the thing you need.
How to tell If your Makeup Is Oil Based
The easiest way to check if your makeup is oil based is to check for these ingredients on the label. Oil based makeup formulas have these common ingredients listed as the first few items:
Mineral Oil
Argon Oil
Paraffin Oil
Petroleum Oil
Almond Oil
Sesame Oil
Avocado Oil
Coconut Oil
*Note: This is not a complete list 
Best Oil Based Foundation For Dry Skin
I want to share an oil based foundation that work best on dry skin. I've come across this when I was in makeup school. I still use this oil based foundation on myself and on my clients and they love it too. It is called Alexandra De Markoff Countess Isserlyn Liquid Makeup
.
Alexandra De Markoff has been around for many years. I am surprised that not many people know of this brand. This oil-based foundation provides really good coverage. It lasts all day and works well even on a hot days. I highly recommend it. This foundation also works well for mixed skin types and is gentle enough for rosacea prone skin. I've actually written an extensive post on the best foundations for rosacea, check out that post if you're looking for foundations that are more gentle for your skin.
The Physician's Formula Healthy Foundation is one of the best oil-based drugstore foundations. The main oil ingredients are:
Sunflower Seed Oil – Great source of vitamin E and effective for fighting inflammation and irritation.
Schinziophyton Rautanenii Kernel Oil – Emollient and for protecting and conditioning the skin.
This is long-wearing formula with a medium-to-full buildable coverage and satin finish. It's lightweight and non-comedogenic. It features Physicians Formula's Brightening Complex (Chinese Wu-Zhu-Yu Extract) that helps to brighten skin over time. It's also formulated with powerful antioxidant ingredients such as vitamins A, C and E to reduce redness.
This foundation also contains hyaluronic acid, a superior ingredient for skin hydration. It provides sun protection SPF 20.
The Luxury by Sofia Organic Liquid Foundation is one of the best natural oil-based foundations. The main oil ingredient in this foundation is:
Simmondsia Chinensis (Jojoba) Seed Oil – Jojoba oil can be easily absorbed into your skin, providing it with intense moisturization. It has anti-inflammatory properties to reduce redness and calm rosacea. It also contains Vitamin B and E to help repair skin and control sebum production.
This is a medium to full coverage foundation with a matte finish. It is lightweight and very easy to blend. It is also sweat and water resistant, making it last all day and an ideal long wear oil-based foundation.
This foundation only uses certified organic and non-toxic ingredients. Some notable ingredients include:
Aloe Leaf Juice – (helps protect skin from free radicals and UV damage
Organic Lecithin – helps to keep your skin hydrated and is excellent for dry skin.
This is a great overall natural oil-based foundation. The waterproof features are a plus and it's cruelty-free. There are 7 shades to choose from.
BTW, I've written a detailed guide on the best foundations for rosacea. Check it out if you want to find out more.
The IT Cosmetics Bye Bye Lines Foundation is one of the best oil-based foundation for mature skin. The main oil ingredients are:
Argania Spinosa Kernel (Argan) Oil – An oil that is rich in fatty acids and vitamin E. It helps to protect the elasticity of skin and reduces that appearance of fine lines and wrinkles.
Orbignya Oleifera Seed Oil – Functions as a skin-conditioning agent to give your skin a smooth appearance.
Helianthus Annuus (Sunflower) Seed Oil – Helps to decrease inflammation and replenish the skin's natural barrier.
Persea Gratissima (Avocado) Oil – Helps to moisturize, soften and deal dry aging skin.
Punica Granatum Seed Oil – Helps with the production of collagen to helps to repair damaged skin.
Babassu Oil – Helps to sooth and moisturize your skin.
This is a sheer to medium buildable coverage foundation formulated with pure color pigments that provides a lasting appearance against aging skin imperfections. It contains other important anti-aging ingredient such as:
Peptides – Helps to improve skin texture and strength.
Caviar Extract – Contains antioxidant properties to protect skin against dangerous UVA and UVB rays
Hydrolyzed Collagen – Reduces flaking and restores suppleness for dry skin
Hyaluronic Acid – Superior hydrating skin ingredient
CoQ10 – Helps to replenishes skin cells and reduce the appearance of wrinkles and fine lines.
Vitamins A, C, E – Antioxidants that helps to protect the skin from sun damage.
Vitamins B1, B2, B3, B5, B7, B9 (B complex) – Helps to even out skin tone and reduce dark spots.
This foundation features IT Cosmetics Drops of Light Optical Blurring Technology that helps to give your skin a airbrushed glow.
with so many benefits, this is worth a try if you're dealing with mature skin.
Btw, I have written a detailed guide on the best foundations for mature skin. Check it out if you want to see more foundations that works good with mature skin.
The Dermablend Professional Cover Creme Foundation is one of the best oil-based cream foundations. The main oil ingredient in this foundation is:
Mineral Oil – helps to reduce skin surface moisture loss and keeps skin moisturized.
This cream foundation is a full coverage foundation with broad spectrum sun protection SPF 30. It features high-performance pigments that won't change color and lasts all day. This foundation feels smooth, lightweight and non-cakey.
It contains Kaolin to help cleanse and exfoliate dead skin cells. It's tested by Dermatologists to be hypoallergenic and non-comedogenic. It's formulated without parabens, phthalates, triclosan and sodium lauryl sulfate.
Btw, I have written a detailed guide on the best non-comedogenic foundations. Check it out if you want to see more foundations that works good with mature skin.
Oil Based Foundations: Everything You Need To Know
Oil based Foundations vs. Water Based Foundations – What's The Difference?
So just exactly how do you tell if a foundation is water based or oil based? The biggest difference between oil based foundations and water foundations can be found in the list of ingredients.
When you check your ingredients list on an oil based foundation, you'll find that the first ingredient should be an oil, such as argon oil or mineral oil. For water based foundations, you will see water as the main ingredient. Water may also be listed as "aqua" or "eau."
But the application and feel of these foundations will also be different. Who should wear a water based foundation and who should wear an oil based foundation will also vary.
Most standard foundations will be water based. When you pick up a foundation from the drug store or your favorite beauty supplier, there is a good chance that it has a water base. This water based foundation may contain some oil, but this is usually just to give a bit of extra moisture and provide a dewy finish.
Comparatively, an oil based foundation will be thicker and may come in a cream form. Foundations promising to provide extra moisture or hydration will usually have oil as a base. Because an oil based foundation can quickly become greasy, you will want to apply gradually and build up coverage in steps.
On the other hand, if you're considering something that is more light weight, you may want to try a water based foundation. Water based foundations have hydrating properties that are great for dry skin but they are not as thick or greasy as oil based foundations. If you're interested to find out more, check out my detailed guide on water based foundations.
Can You Use an Oil Based Foundation for Oily Skin?
If you want to avoid an overly greasy or slick appearance, I recommend staying away from oil based foundations if you have oily skin. While applying a thin layer of an oil based foundation may not hurt, the oil from your skin mixed with the oil from your makeup can have you reaching for an oil control sheet after just a few hours.
If you have oily skin, you're best to stick with a matte finish, even if you're hoping for a dewy look. The natural oils from your skin will usually provide you with just the right amount of glow without being too overpowering.
The heaviness of an oil based foundation is not recommended for acne-prone skin, which is usually associated with oily skin. If you deal with breakouts, you may not want to select an oil based foundation.
Got Dry Skin? Wanna go Natural? Try these DIY Recipes!
If you've got some spare time on your hands and would like to have an all natural makeup solution, you can try to make your foundation yourself.
Here are some popular recipes that uses all natural ingredients that you probably already have at home. The key to creating the perfect shade is to practice and testing often. These recipes will help you create foundations that are organic, nourishing and provides great hydration for your skin.
Check them out below!
DIY Natural Ginger Cream Foundation For Dry Skin
All natural cream foundation made with ginger, nutmeg and a hint of cloves.
Check out this recipe
DIY Argan Oil Natural Liquid Foundation For Dry Skin
A rich, creamy and skin-nourishing liquid foundation made with argan oil and aloe gel as main ingredients.
Check out this recipe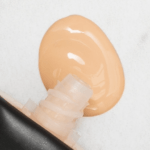 Can You Use an Oil Based Foundation with a Silicone Primer?
To get the best results when using an oil based foundation, you will want to select a primer that also has an oil base. If you find that this provides too much moisture and you're feeling greasy, a water based primer is recommended.
Using a silicone-based primer with an oil based foundation is usually not recommended because silicone-based primers aren't advised for dry skin. Silicone-based primers tend to be a bit thicker and can act as a protective layer against your skin. Because you want the oil from your foundation to hydrate your skin rather than just sit on top of it, a silicone-based primer may create a barrier to prevent this.
Silicone-based primers are usually recommended if you have scaring, large pores, or wrinkles that you would like to fill in.
What is The Best Way to Apply Oil Based Foundation?
If you want to get a beautiful finish with an oil based foundation, I recommend using a wet sponge or blender to help the thicker formula spread easily and evenly. You should begin small, spreading small bits of the makeup over your skin as to not overpower your skin with oil.
Pro Tip: Add a few drops of toner to your oil based foundation to make it more sheer
For additional tips on how to apply oil based foundation to dry skin, check out this YouTube video:
An oil based foundation is not right for everyone and if it does not feel comfortable on your skin, you should select either a water based or silicone-based replacement. However, oil based foundations can do wonders for chronically dry skin or can make a great foundations during the bitter cold winter months. With the added bit of moisture from the oil, this type of foundation can give you the radiance to go through your day confidently.
Best Oil Based Foundation Brands
In the world of oil based foundations, there is simply too many choices. However, there are brands that I think is worth sharing. I have used these brands in one way or another (Sometimes on myself and other times on my clients). These brands are:
1) Vapour Organic Beauty –
Vapour Organic Beauty is a line of makeup that focuses on using natural ingredients. Their foundations contains plant oils and other organic ingredients that nourishes the skin. Like all other healthy makeup foundations, I would recommend this brand for people who have have sensitive or combination skin types. A great foundation from this lineup is the Vapour Organic Beauty Atmosphere Soft Focus Foundation. This product is oil based and is very light weight.
2) Alexandra De Markoff – This brand is an old player in the field of oil based foundations and honestly, I can see why. Alexandra De Markoff is for classy and noble women with quality in mind. Oil based foundations from this brand is a bit thicker than others. I recommend this brand for someone with really dry skin.
Are Oil Based Foundations Only Used on Dry Skin?
A lot of people believe that oil based foundations can only be used on dry skin. Although this type of foundation is highly recommended for dry skin, someone might choose to use it for acne prone skin skin well.
When people think of acne skin, they automatically imagine an oily face with bright red dots. However, the reality is that someone could be breaking out due to a lot of different reasons. Some of these reasons might be caused by your diet or the products that you are using might be clogging your pores.
The key here is understand what caused the break out and pay attention to your skin surface. If you noticed that your skin is dry around the breakouts, using an oil based foundation could actually help to nourish the dry skin. Apply just enough to cover the blemishes caused by acne skin and use one that is non-comedogenic.
Was This Post Helpful? Let us know if you found this post helpful. That's the only way we can improve.