If you're losing your hair and want to find ways to re-grow it fast, you may have heard that using onion juice can help. You may be wondering if onion juice really works to regrow hair and if there is any scientific evidence to support this.
The short answer is that: Yes, using onion juice can help regrow hair.
According to estimates, it can take 30 days for onion juice to regrow hair for some individuals. The required time might be different for different people.  
However, it's just not that simple and you need to understand how onion juice works on your hair and scalp before using this natural remedy.
Let's take a look closer into how onion juice works to regrow hair and how you can use this D.I.Y natural home remedy.
How Does Onion Juice Regrow Hair?
Onions contain high sulfur content which is important for the formation of a key structural component of the hair called keratin.
Hair loss may be attributed to scalp infections and onions also have anti-bacterial properties which is great for fighting off scalp infections.  In addition, onions contain antioxidants that help to protect the body from free radicals. Reducing free radicals can help to reduce damage to hair follicles. 
A study that was conducted on patients with alopecia areata, a rare autoimmune disorder that causes hair loss, showed that 86.9% of patients experienced hair re-growth in 6 (six) weeks. 
As amazing as this may sound, you must understand that most men and women who experience hair loss DOES NOT have alopecia areata. Instead, the majority of men and women experience a common form of hair loss known as androgenetic alopecia.
Unlike alopecia areata, which is primarily caused by the body's immune system attacking hair follicles, androgenetic alopecia in both men and women are caused by hormones. This means that although onion juice works well for people with alopecia areata, it may have little to no effect on people with androgenetic alopecia.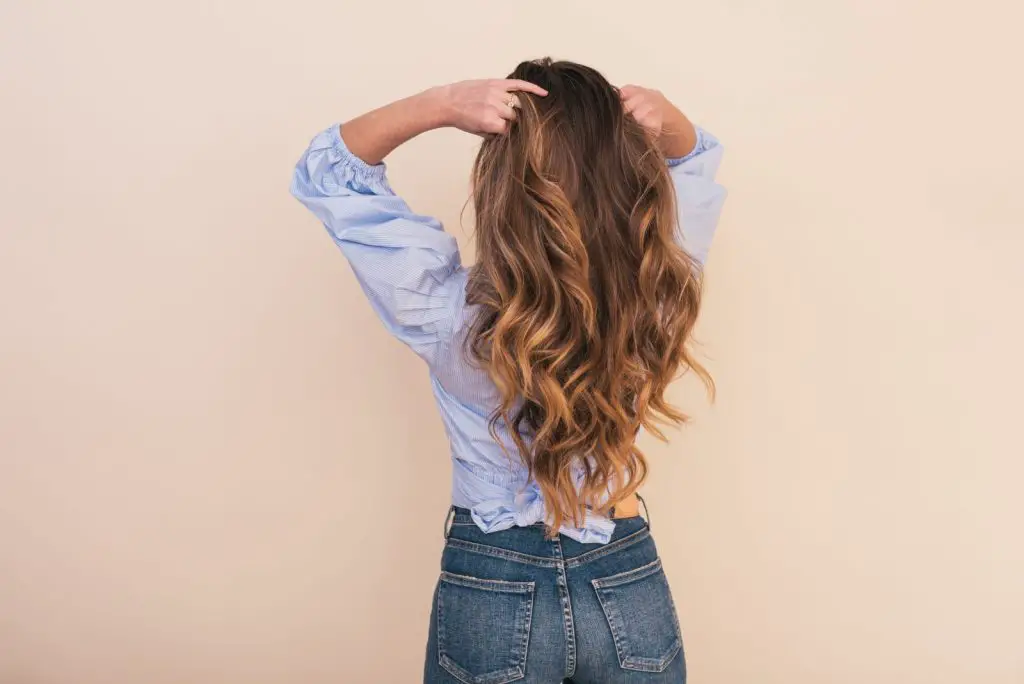 Time Onion Juice Takes to Grow Hair
According to the study on alopecia areata, researchers found that hair growth began 2 weeks after using the onion juice treatment. After researching the topic on various online forums, it seems reasonable that hair growth could take up to 30 days. Your results may vary and not everyone will experience the hair re-growth.
How to use the Onion Juice Hair Re-growth Treatment
This DIY remedy is very easy to do. Follow these steps twice daily for a few weeks:
Peel a couple of onions and cut them into small cubes
Using a blender, blend the onion pieces into a fine pulp
Pour the solution onto a fine mesh strainer, drain the onion juice out and throw out the pulp
Using a soft brush, apply the onion juice to your scalp or hair roots.
If you don't want to make your own, I recommend trying Aspiiro Natural Organic Red Onion Hair Oil. This oil is created using 100% organic red onions which can provide extra sulfur to support your hair, prevent hair loss and promote hair growth. Sulfur also helps to promote collagen production which helps the production of healthy skin.
The Aspiiro Natural Organic Red Onion Hair Oil is also formulated with Redensyl, which is an ingredient that targets hair roots to promote hair growth.
This oil does not contain mineral oil, sulfates, parabens, sodium chloride or gluten. It is suitable for all hair types and safe for color-treated hair.
Side Effects
Applying onion juice to the scalp can cause the following side effects:
Irritation to the skin can eyes
Allergic reactions
Itching of the scalp
Redness
Be sure to do a patch test before using the treatment. Raw onion juice also has a strong odor and it's not for everyone.
Advanced Hair Loss Treatment Options
Besides home remedies, there are many advanced hair loss treatments. These surgical or non-surgical options can fix your hair loss problem faster but of course, they are not natural or cheap. 
Platelet-rich plasma (PRP) therapy is commonly used for hair loss these days. It is a minimally invasive treatment that takes a few months to make significant improvements. 
Growing Hair with Onion Juice: Is It Worth It?
Using onion juice for growing hair is not for everyone and results may vary. If you are not careful, you may cause irritation to your scalp and other damages to your skin.
The study that was done using onion juice was on patients with alopecia areata and there is no solid or confirmed study that shows the benefit of onion juice on the more common type of hair loss: androgenetic alopecia. Onion juice will not damage existing hair.
If you're curious to see if onion juice can help you with your hair loss issue, just give it a try.
Was This Post Helpful? Let us know if you found this post helpful. That's the only way we can improve.